Django Unchained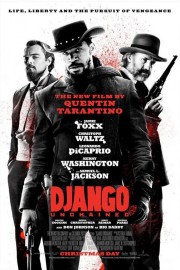 What's it about?
Before the outbreak of the American Civil War, slave Django (Jamie Foxx) meets dentist/bounty hunter Dr. King Schultz (Christoph Waltz). Schultz frees Django and agrees to help him rescue his wife (Kerry Washington) from the clutches of seedy plantation owner Calvin Candie (Leonardo DiCaprio) and his sly house slave (Samuel L. Jackson). Also, racism.
What did we think?
Mitch says: Q-ball has done well everything he usually does well, and done poorly some things he usually does well, too. The humour and pacing is there – for the first half . Then Django transitions into territory that is dangerously close to being an outright two-dimensional mute.
I'll skirt past the elephant in the room – the debate over whether Tarantino's use of slavery and racism in pre-Civil War America amounts to anything meaningful or is just thinly veiled exploitation – because otherwise we'll be here all day. Essentially, it's the second one. And it's violent as hell.
That said, Waltz, Foxx and DiCaprio are excellent and Tarantino has delivered a fitting tribute to the Westerns of old, soaked in irony and a genuine respect for the genre. It's glorious, but no Inglourious.