Fading Gigolo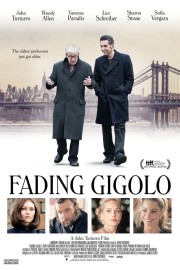 What's it about?
A guy that gets talked into becoming a professional male escort by his cash-strapped friend.
What did we think?
Anthony Sherratt says: The plot sounded dubious and the inclusion of Woody Allen left me extra concerned but I walked out of Fading Gigolo pleasantly surprised. It's a light but intelligent comedy that I actually found delightfully charming.
John Turturro (Transformers) wrote, directed and stars in a pic whose star power reflects the strength of a quirky but interesting script. Sharon Stone and Sofia Vergara play almost predatory females who are looking for attention and a selfish satisfaction that makes their interactions with Virgil fascinating. Not only what they want from him, but also the way they treat him. And then we meet a quiet widow who I think we all fall in love with a bit including our hero but can he have her? Especially given her devotion to the Jewish faith.
One of the criticisms of this film is that Turturro is not an attractive man, especially odd given the profession he's supposed to portray but I think that actualy adds to this film. It's about his quiet confidence and his attentiveness to the women's needs, rather than a cheeky smile and six packs. He's an unlikely but likable hero.
Warm-fuzzy feelings and no, not THOSE kind – there's actually very little in the way of nudity and sex scenes. But see it anyway. 😉