Fantastic Beasts: The Crimes Of Grindelwald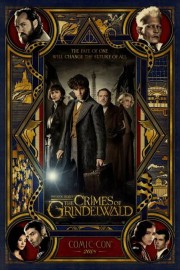 What's it about?
We return to the Potterverse but not much really happens in this second installment.
What did we think?
Oliver Hetherington-Page says: There is no doubt that J.K. Rowling is a fantastic novelist, perhaps one of the best of the 21st centenary, but after Fantastic Beasts: The Crimes of Grindelwald the question is out on whether she is an equally strong screen writer. The Harry Potter spinoff prequel is in many ways classic Rowling with its suspense and twists but unlike the novels that made Rowling famous Fantastic Beasts is lacking in clarity. Eddie Redmayneis nervously charming as Newt Scamander, Dan Fogler is a scene stealeras the comic muggle Jacob Kowalski, Jude Law is exactly what you would except from a young Albus Dumbledore and Johnny Depp is menacingly creepy as dark wizard Gellert Grindelwald but none of them overcame the cluttered screenplay. Director David Yates creates a magical world that you can't help but fall in love with but with a screenplay this messy it's hard to engage.
2.5 Stars