Iron Man 3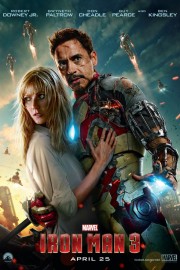 What's it about?
Picking up in the aftermath of The Avengers, Tony Stark is dealing with his brush with death by ignoring the world until a terrorist called The Mandarin brings the battle to Stark's doorstep.
What did we think?
Anthony says: If you've seen the trailers you've seen most of the twists and a good deal of the action already. But you've not quite seen it all and there's enough to keep even the rabid fans happy. There are lots of explosions, snarky dialogue and a stunt scene that has to be seen to be believed. The plot is a tad clunky at times but it's clever, humorous and – most importantly of all – big. Spectacular in parts, even.
It's not a great movie but it is great fun.
3.75/5.