Night at the Museum: Secret of the Tomb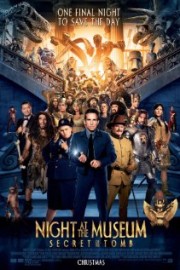 What's it about?
The magical tablet that makes all the museum exhibits come alive is losing its powers, so Larry (Ben Stiller) and the gang have to visit the British Museum to find answers.
What did we think?
Sophie Webb says: Super-awesome effects and silly-sausage moments from the two Wilsons – Owen and Rebel – elevate this film that's aimed at 8-year-olds. Not being familiar with the first two in the franchise, this weary mum was pretty pleased with the easy-to-follow storyline and all-star cast, including a cameo from our own Hugh Jackman. The fight in the M.C. Escher print, Relativity, is genius, and the wee joke: wee-lly funny. Robin Williams' final film has some unintended profound moments following his death, and fans of Ben Stiller will enjoy his usual dumbstruck expressions. Solid sign of a good flick? Miss Three wants it on DVD post-haste despite a few hide-your-eyes moments.