The Book Thief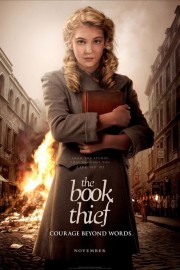 What's it about?
In Germany during WWII, Liesel (Sophie Nélisse), age 9, is sent to live with foster parents (Geoffrey Rush and Emily Watson). She earns her title of  "the book thief" after "borrowing" books from the mayor's wife's library.
What did we think?
Casey says: There is a lot going on in this film and it sometimes feels like it moves too quickly to form meaningful relationships. This is remedied completely by the end, and the relationships are actually what make this film so beautiful. The narration by Death (Roger Allam) felt a little tedious to begin with (and seriously, Back to the Future owns the flying through clouds opening shot – leave it alone), but it all ties together in one of the most moving final shots of a film I've ever seen. Ever.
 
My eyes leaked more than they should have in a public place. Excuse me while I head off to steal the book.