The Hobbit: An Unexpected Journey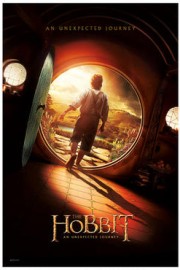 What's it about?
Tempted by promises of untold gold, a group of film-makers are lured back to Middle Earth where they magically expand a small novel into three long feature films.
What did we think?
Anthony says: Despite being bloated and excessively drawn out, it turns out the first film of the Hobbit trilogy is actually fun. With familiar characters, backdrops and the obligatory NZ tourism shots there is a sense of relaxing into a comfortable chair while watching. Which is fortuitous because it's a long movie and feels more like set-up than a story in its own right.
Having said that I have to admit the sense of fun does over-ride the cynicism and negativity. It's enjoyable, interesting and a visual feast. Good characterisation combines with a sense of whimsy to provide more comedy  than LOTR which is a fair reflection of the original novel. I'm surprised but it actually is a worthy addition to the franchise*.
* even if the franchise will be unnecessarily long by the end of it.